Last Updated: 04/02/15
B. Rao Vishnuvajjala, Ph.D.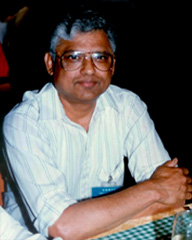 Chief
Pharmaceutical Resources Branch
Developmental Therapeutics Program
9609 Medical Center Drive
Room 4W102
Rockville, MD 20852
240 276-5962
raov@nih.gov
Dr. Vishnuvajjala completed Ph.D., in Organic Chemistry from Florida State University in 1971 with specialization in Synthetic Natural Products, and did post- doctoral work at UAB and FSU in carbohydrate chemistry and Alkaloid synthesis respectively. Moved to Ohio State University in 1974 and worked in Medicinal, Pharmaceutical, and Clinical Pharmacology Laboratories until 1979.  After a brief tenure at Research Triangle Institute working with Drs. Wall and Wani, moved to NIH in 1980 to work in the Analytical and Formulation Development section of PRB within DTP/NCI. Spent three years, from 1984-87, at the FDA as a Review Chemist, and returned to PRB in the extramural setting. Worked on several projects dealing with GMP synthesis, Analytical Development and Quality control, Formulation Research and Development, and Dosage Form Manufacturing.  Became Branch Chief in 1993, and continue to work in that capacity to date.
During this period, the branch has successfully managed clinical supply chain operations for over 120 investigational agents. From among these agents, more than a dozen compounds reached market stage for both Cancer and AIDs indications, and several of these are in routine clinical practice making a meaningful and positive contribution in the lives of many Patients.
About the Acting Branch Chief
S. Esmail Tabibi graduated as B.Sc. in pharmacy and Doctor of Pharmacy from Tabriz University, Iran with emphasis on Pharmacology. After teaching in both Tabriz and Mash-had universities, came to University of Maryland at Baltimore to obtain his Ph.D. Then he served as Director, Pharmaceutical R&D at H.G. Pars Pharmaceutical Laboratories and moved to become Director R&D and then Vice President at MediControl Corporation, Newton, MA and moved to Micro Vesicular System, Nashua, NH as Vice President for Product Development. He then became Associate Professor at the School of Pharmacy, University of Rhode Island, Kingston, RI. From there he moved to the National Cancer Institute with responsibility to develop anti-cancer drugs. At 2001 he moved to Eastern Virginia Medical School as an Associate Professor at the Dept of OB/GYN to develop topical microbicide and anti-AIDS medications for clinical evaluation and 2004 He returned to the PRB.
DTP Branches and Offices