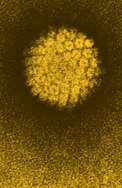 Electron micrograph of human papillomavirus (HPV). Courtesy of NCI. 1986.
E7 vaccine (NSC 723254)
Human papillomavirus (HPV) infection has been consistently associated with the development of cervical cancer. The HPV gene products E6 and E7 are required for the development of the cervical cancer phenotype, and they are consistently expressed in cervical cancer cells, but not normal cells.
1999 DTP involvement in the development of the E7 vaccine for the treatment of cervical cancer began in 1999, when Dr. Drew Pardoll of Johns Hopkins University submitted and gained approval for a RAID application for recombinant DNA and vaccinia constructs containing LAMP-1-targeted E7. In this application, Dr. Pardoll showed that both constructs enhanced E7-specific immune responses and generated dramatically increased antitumor activity, compared with wild-type E7 alone.
2001 In February 2001, Dr. Pardoll presented data showing that constructs in which LAMP-1 was replaced with heat shock protein 70 (HSP70) were more potent in promoting immune response and antitumor activity than the LAMP-1 constructs were.
2002 DTP gave approval to proceed with the pNGVL4a-sig/E7(detox)/HSP70 DNA vaccine (NSC 723254), and the Biopharmaceutical Development Program began production work in the spring of 2001. Toxicology studies began in October 2002.
2003–2004 Dr. Pardoll filed an IND in April 2003, and clinical trials opened in 2004.
Link:
DTP pNGVL4a poster (pdf)

To download Adobe Reader for PDF documents, click here.

The DNA vaccine effort was spearheaded by Johns Hopkins researchers Connie Trimble, M.D., T.C. Wu, M.D., Ph.D., and Drew Pardoll, Ph.D., who focused on HPV-16, a strain of HPV responsible for more than half of all cervical cancers and 20% of head and neck cancers. Clinical trials are under way to test the E7 vaccine against cervical and head and neck cancers.