Last Updated: 05/20/22
ROADMAPS Dataset
Responses to Oncology Agents and Dosing in Models to Aid Preclinical Studies
ROADMAPS provides publicly accessible preclinical data evaluating the effects of 70 different agents on 140 different xenograft models.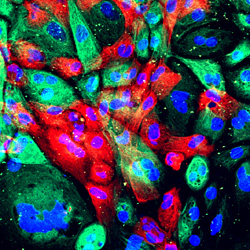 Xenograft model of prostate cancer
Credit: NIH
Goals
Serve as a publicly available research resource to inform the design of tolerable single- and combination-agent regimens in preclinical mouse models
Fill an unmet need in drug development by releasing preclinical data and the methods used in preclinical xenograft models to evaluate the effects of cancer drugs on human tumor growth in vivo for use by the research community
Development
Multiple xenograft models were tested for nearly all cancer histologies, including 24 models of lung cancer.
Dose levels and schedules were comparable to those tolerated in humans.
Targeted, cytotoxic, and adjuvant single agents were included.
Format
Data are presented in a downloadable spreadsheet, which will be periodically updated as additional combinations of agents and models are evaluated.
Data can be filtered by:

NSC number
agent generic name
dose
mouse strain
administration route
dosing schedule
tumor model
tumor response
maximum weight loss
drug-related deaths
vehicle formulation
More Information
DTP's Biological Testing Branch (BTB) website
Melinda Hollingshead, DVM, PhD, Branch Chief, BTB (hollingm@mail.nih.gov)
Hollingshead MG, Greenberg N, Ahalt MG, Camalier R, Johnson BC, Collins JM, and Doroshow JH. ROADMAPS: An online database of response data, dosing regimens, and toxicities of approved oncology drugs as single agents to guide preclinical in vivo studies. Cancer Res. 2022 Apr 26. Online ahead of print. PMID: 35472132