Last Updated: 11/10/15
Eribulin (Halaven®; E-7389)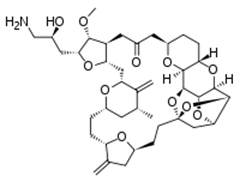 Eribulin is a total synthetic molecule modeled on the ring structure of the naturally occurring anti-tubulin compound halichondrin B, which was first reported and patented in Japan in 1985 as a potential antitumor agent. In 1986, the NCI Outstanding Investigator Dr. George R. Pettit at University of Arizona established a collaboration with theDTP, Laboratory of Drug Discovery and Development (Dr. Michael Boyd), and the intramural tubulin expert Dr. Ernie Hamel to evaluate the marine sponge metabolite halichondrin B. The halicondrins potently inhibited the NCI-60 cell line panel at low nanomolar levels, and had a potentially different binding site to taxol/taxotere and the vinca alkaloids/colchicines. DTP/Natural Products Branch (NPB) was tasked to source adequate supplies of halichondrin B for development. In the same year, Dr. Y. Kishi, Harvard University (R37/R01CA022215), reported total synthesis of halichondrin B but with low yield. In response to a request for information, researchers at the University of Canterbury in Christchurch, New Zealand, who had previously provided small amount of halichondrins to the NCI, contacted NPB with the aim of investigating the possibilities of large scale isolation from a New Zealand-sourced deep water sponge. The NCI negotiated and funded an environmental impact study by the Government of New Zealand to assess collectible sponge beds at 150-200 meter depth and subsequently through the New Zealand National Institute of Water and Atmospheric Research (Dr. Chris Battershill) and the University of Canterbury (Dr. M. Munro and Dr. J. Blunt) to collect and purify halichondrin from 1 metric tonne of sponge. In 1996, 300 mg of 98 percent pure halichondrin B was provided to the NCI for testing. DTP reported that the NZ-purified halicondrin B had a higher therapeutic index than the more toxic materials provided in the late 1980s/early 1990s by Pettit, and that it was functional in a late stage xenograft model.
Positive xenograft data reported by NCI staff attracted the interests of scientists at Eisai Research Institute and Dr. Kishi. Eisai Research Institute had licensed Dr. Kishi's synthesis patents and made many analogs but were considering stopping further research. Meanwhile, DTP had conducted comparative evaluation of E7389 and its precursor E7390 from Eisai against the NZ halicondrin B. The positive results on these two synthetic compounds encouraged Eisai to continue collaborative studies with DTP. A Clinical Cooperative Research and Development Agreement was negotiated between Eisai Research Institute and the NCI to develop E7389. Eisai Research Institute supplied cGMP E7389 to DTP and CTEP. NCI Drug Development Group supported IND-directed preclinical toxicology, analytical methodology, formulation, and clinical trials through phase 2. Eisai continued on a much larger phase 3 clinical trial on E7389, which ultimately became eribulin and received FDA marketing approval November 17, 2010, for the second stage treatment of refractory breast cancer.
NCI's involvement in the development of eribulin was initiated in 1986 and continued through phase 2 clinical trials. Etensive work and investment of NCI, as well as the interplay of academic, industry, and government, played important roles in bringing this agent to market. The critical point, demonstrated by DTP scientists, that eribulin was more efficacious than pure halicondrin B persuaded Eisai to continue their studies and development of this agent.