Last Updated: 03/07/23
IOB Staff Profile and Focus Areas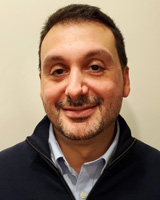 Marco Cardone, Ph.D.
Dr. Marco Cardone obtained his Ph.D. in Medical Microbiology and Immunology from the University of Rome, Italy, in 2008. During his stay in Italy, he studied the regulatory effects of IFN-b and IL-3 on the antimicrobial functions of human macrophages, as well as the HIV-induced dysfunction of the cross talk between dendritic cells and gd T lymphocytes. Dr. Cardone then moved to NCI for his postdoctoral fellowship where he studied dendritic cell programming by microbial components and inflammatory cytokines for Th17 and Th22 cell polarization. During his postdoc, he also contributed to research on the effects of antibiotics on antitumor responses induced by immunotherapies and chemotherapies. In 2013, Dr. Cardone joined the FDA where he conducted research studies focused on understanding the mechanisms underlying the development of HLA-linked drug hypersensitivity reactions and evaluating the effectiveness of repurposing non-anticancer drugs to enhance the effects of innate immune response modulators and immune checkpoint inhibitors in cancer immunotherapy. During his time with the FDA, he also reviewed sections of drug applications to assess the immunogenicity risk of therapeutics under development. Dr. Cardone returned to NCI in October 2022 to join the Immuno-Oncology Branch and his programmatic research interests include cellular immunotherapies, immune checkpoint inhibitors, combination therapies, cancer vaccines, preclinical models of immunotherapy, role of the microbiome in immunotherapy, TME modulation, new technologies for target discovery and immunotherapy development.
Marco Cardone, Ph.D.
Program Officer
marco.cardone@nih.gov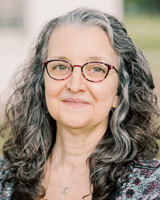 Connie Sommers, Ph.D.
Dr. Connie Sommers obtained her Ph.D. in Anatomy and Cell Biology from the Georgetown University School of Medicine. She pioneered the concept of EMT (epithelial-mesenchymal transition) in breast cancer during her time at the NCI Medicine Branch and at Georgetown University. She transitioned to studying developmental immunology in 1994 at NICHD and was a Staff Scientist at NCI for 17 years as an expert on genetic mouse modeling to study T cell signaling. Dr. Sommers joined the IOB in 2017, where she is happy to be able to utilize her backgrounds in cancer research and in basic immunology. Her programmatic research interests include: checkpoint inhibitor immunotherapy, adoptive cellular immunotherapies, preclinical models of immunotherapy, canine immunotherapy, synthetic biology, nanotechnology, and combination cancer therapies.
Connie L. Sommers, Ph.D.
Program Director
sommersc@mail.nih.gov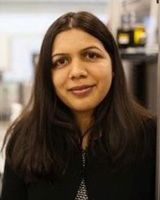 Anju Singh, B.V.Sc, Ph.D.
Dr Anju Singh obtained her degree in Veterinary Medicine (BVSc) from G. B. Pant University, Pantnagar, India. She came to the USA in 2003 and obtained her Ph.D. from the University of Wisconsin-Madison where she studied mechanisms of T cell memory to viral infections. Dr. Singh transitioned to Harvard University for her postdoctoral fellowship where she investigated cross talk between the immune and skeletal systems, anabolic regulators of bone development and the biology of skeletal progenitor cells. Dr. Singh joined National Center for Advancing Translational Sciences (NCATS) as a Translational Research Scientist in 2012 where she gained extensive experience implementing high throughput screens and developing complex cellular models for drug discovery. Scientific areas of interest at NCATS included targeting Th17 cells to suppress autoimmune disorders, targeting the tumor microenvironment, small molecule potentiators for immunotherapy and immunometabolism. Dr. Singh joined the Immunology Review Branch, NIAID as a Scientific Review Officer (contractor) in 2019 and transitioned to the Immuno-Oncology Branch at the NCI in 2020. Her programmatic research interests include pediatric immunotherapy, cellular immunotherapies, immunometabolism, modulation of tumor microenvironment, antitumor immunity and development of new technologies and targets.
Anju Singh, Ph.D.
Program Director
anju.singh@nih.gov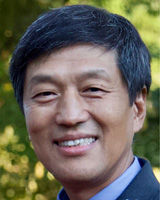 Zhang-Zhi Hu, M.D.
Dr. Zhang-Zhi Hu obtained his M.D. from Wannan Medical College and received further graduate training (M.S.) in endocrinology from Beijing Medical University, China. Dr. Hu had his postdoctoral training at the National Institute of Child Health and Human Development (NICHD, 1993-1998) where his research focused on elucidation and characterization of genomic structures and molecular regulation of prolactin receptor gene and proteins in gonadal and non-gonadal tissues including breast cancer cells, and then became a staff fellow at NICHD to continue his research in molecular endocrinology. Dr. Hu moved to Georgetown University in 2001 as a bioinformatic scientist at the Protein Information Resource (PIR) and Department of Biochemistry and Molecular and Cellular Biology, where he extended his research to a then emerging field of bioinformatics and various -omics studies including genomic, proteomic data analyses and data mining. He became an associate professor in the Department of Oncology at Georgetown University Medical Center (2007-2010) where his study focused on biological pathway and network analysis for cancer biomarker and molecular target identification in particular for breast and prostate cancers. In 2010, Dr. Hu joined the Center for Scientific Review (CSR) of NIH where he first managed the Cancer Diagnostics and Treatments (CDT) study section for small business grants and then Cancer Immunopathology and Immunotherapy (CII) study section (2020-2022), both of which cover a broad range of topics on immuno-oncology including cellular therapies (CAR-T/TCR-T/NK cells), immune checkpoint inhibitors, antibodies, virotherapies, vaccines, anti-tumor immune regulations, and therapeutic resistance. Dr. Hu joined the Immuno-Oncology Branch at NCI in March 2022, and his programmatic interests include cellular immunotherapies, immune checkpoint blockade, cancer vaccines, canine models for immunotherapy, immune modulation of the tumor microenvironment, and new technologies for immunotherapeutic development and delivery.
Zhang-Zhi Hu, M.D.
Program Director
zhang-zhi.hu@nih.gov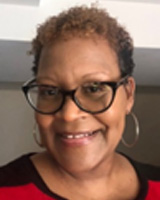 Monica Cooper
Monica Cooper joined the NCI Division of Cancer Treatment and Diagnosis, Developmental Therapy Program in 2021, as the ImmunoOncology Branch's program specialist where she provides program support. In her previous role as a program specialist in the NICHD Office of Education, she provided support to assist postbaccalaureate fellows and postdoctoral fellows in achieving their career goals. Ms. Cooper has over 20 years of experience as a biologist at the NIH. In her position in the laboratory of Dr. James Kennison, she co-authored three publications on the molecular genetic analysis of genetic regions in fruit flies. In addition to her bench work, publications, and presentations to colleagues, Ms. Cooper trained postbaccalaureate fellows and summer students. In particular, she presented the "What's in an Eye?" activity for students at the NIH's annual Take Your Child to Work Day. Prior to coming to the NIH, Ms. Cooper was a high school biology teacher for six years. Ms. Cooper received her Bachelor's degree in biology from Hampton University.
About the Branch Chief

Dr. Marc Ernstoff joined the NCI Division of Cancer Treatment and Diagnosis, Developmental Therapy Program in 2020 as Medical Officer and the new Chief of the ImmunoOncology Branch. He has over 40 years experience in studying the immunobiology of human cancer and the development of new immune therapies. More…