Last Updated: 09/28/20
Ronald C. Taylor, Ph.D.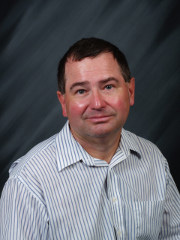 Chief
Information Technology Branch
Developmental Therapeutics Program
Division of Cancer Treatment and Diagnosis
National Cancer Institute
Bldg 9609, Room 4W132
9609 Medical Center Blvd
Rockville MD 20850
Office phone: <TBD>
Mobile: 509-783-7308
Email: ronald.taylor@nih.gov
Dr. Taylor serves as Chief of the Information Technology Branch (ITB), Developmental Therapeutics Program (DTP), Division of Cancer Treatment and Diagnosis (DCTD), National Cancer Institute (NCI), joining NCI in March 2020. He supervises a staff whose goals are: planning, developing, and implementing biomedical informatics solutions to advance the discovery and development of new cancer therapeutics.
Recent previous work by Dr. Taylor has involved the building of NCI-funded cancer-related databases and performing analytics on such in the Google Cloud, construction of cancer mutation dbs, and mapping expression data to immunoglobulin variable regions. Prior to that, Dr. Taylor worked on analysis of bacteria and bacterial communities, including whole-genome metabolic modeling and regulatory network inference. Also, he has performed significant prior work in computational infrastructure (including scalable NoSQL dbs, parallelized distributed processing pipelines) and diverse software tool development. Dr. Taylor has authored or co-authored 57 journal papers, 10 conference papers, and four book chapters.
Education
Ph.D., Bioinformatics, George Mason University; M.S., Biology, Case Western Reserve University (CWRU); M.S., Computer Engineering, CWRU; B.S., Physics, CWRU (National Merit Scholar, CWRU Presidential Scholar)
Specialties
Bioinformatics, Systems Biology, Biological Network Inference, Biological Database Development, Relational Database Design, NoSQL Databases, High Performance Computing (Hadoop, Spark), Data Warehouses, Big Data, Next Generation Sequencing (NGS), Microarray Analysis, RNA-seq Analysis, Whole-genome Metabolic Modeling, Data Mining and Knowledge Discovery, Machine Learning, & Automated Reasoning, Computational Biology, Bacterial Gene Expression Regulation, Analysis of Bacterial Communities
About the Branch Chief

Dr. Taylor serves as Chief of the Information Technology Branch (ITB), Developmental Therapeutics Program (DTP), Division of Cancer Treatment and Diagnosis (DCTD), National Cancer Institute (NCI), joining NCI in March 2020. More…