Last Updated: 04/02/15
Beverly A. Teicher, PhD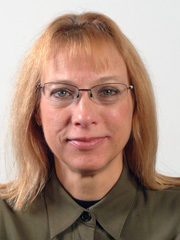 Chief
Molecular Pharmacology Branch
National Cancer Institute
9609 Medical Center Drive
RM 4-W602, MSC 9735
Bethesda, MD 20892
Phone: 240-276-5972
FAX: 240-276-7895
Email: Beverly.Teicher@nih.gov
Email: teicherba@mail.nih.gov
Dr. Beverly A. Teicher PhD is Chief of the Molecular Pharmacology Branch at NCI, a position that she assumed in early 2011. One focus of the Molecular Pharmacology Branch is target and drug discovery for rare and recalcitrant cancers such as sarcoma and small cell lung cancer. Dr. Teicher completed a PhD in Bioorganic Chemistry at the Johns Hopkins University and postdoctoral training at Yale University School of Medicine. Dr. Teicher joined Dana-Farber Cancer Institute as an Assistant Professor of Pathology and rose to Associate Professor of Medicine and Radiation Therapy, Harvard Medical School at Dana-Farber Cancer Institute and Joint Center for Radiation Therapy. In 1997, Dr. Teicher was appointed Research Advisor in Cancer Drug Discovery at Lilly Research Laboratories where she founded and chaired the Tumor Microenvironment Action Group, chaired the Cell Cycle Action Group and headed the In Vivo Tumor Models Group before joining Genzyme Corporation in 2002 where Dr. Teicher was Vice President of Oncology Research for 9 years.
Dr. Teicher is best known for her work in solid tumor models and physiologic measurements of tumor hypoxia and oxygenation, the study of anti-angiogenic agents and the study of drug combinations with an emphasis on in vivo determinations of tumor cell kill long with determination of bone marrow CFU-GM killing  in the same host and has a special interest in antibody-drug conjugates. Dr. Teicher has headed laboratories and teams that have contributed critical preclinical studies to several approved anticancer agents and several investigational agents currently in clinical trial.
Dr. Teicher is an active member of the international scientific community having authored or co-authored >400 scientific publications. She has edited eight books, is senior editor for the journal Clinical Cancer Research, executive editor of the journal Pharmacology and Therapeutics and is series editor for the Cancer Drug Discovery and Development book series of >70 volumes.
About the Branch Chief

Dr. Beverly A. Teicher PhD is Chief of the Molecular Pharmaco-logy Branch at NCI, a position that she assumed in early 2011. One focus of the Molecular Pharmacology Branch is target and drug discovery for rare and recalcitrant cancers such as sarcoma and small cell lung cancer. Dr. Teicher completed a PhD in Bioorganic Chemistry at the Johns Hopkins University and postdoctoral training at Yale University School of Medicine. More…