Last Updated: 09/28/21
Rosemarie Aurigemma, Ph.D.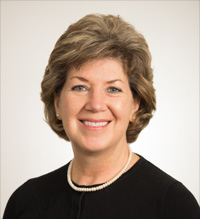 Associate Director
Developmental Therapeutics Program
Developmental Therapeutics Program
Division of Cancer Treatment and Diagnosis
National Cancer Institute
NCI Shady Grove
9609 Medical Center Drive, Rm 4W610
Bethesda, MD 20892-9735
Rockville, MD 20850 (for courier delivery)
240-276-5465
aurigemr@mail.nih.gov
Dr. Aurigemma has been a programmatic leader in drug development for over 20 years. Her tenure as the Deputy Associate Director of DTP resulted in the launch of the Stepping Stones preclinical development program as well as the initiation and expansion of biopharmaceutical manufacturing support for adoptive cell therapies. She served as Acting Associate Director of the DCTD Developmental Therapeutics Program beginning in January 2021 until her permanent appointment in September 2021. As Associate Director, she will be managing the oversight and coordination of the programmatic, financial, and administrative functions for DTP's ten active branches.
Dr. Aurigemma initially joined NCI in 2001 as a Program Director in the Biological Resources Branch of DTP where she spent 8 productive years directing programs for novel biopharmaceutical products leading to successful phase I clinical trials both nationally and internationally. In 2009 Dr. Aurigemma joined the Offices of Biodefense, Research Resources and Translational Research with the National Institute of Allergy and Infectious Disease (NIAID). At NIAID, Dr. Aurigemma served as Chief, Drug Development Section from 2009-2017 where she led a diverse anti-infectives drug discovery and development portfolio, initiating nearly two dozen clinical trials and resulting in several biodefense drugs reaching market approval and placement in the federal Strategic National Stockpile. In 2017, she rejoined NCI as DTP's Deputy Associate Director. She also served as Acting Chief of the Immuno-Oncology Branch (2017-2020) and Biological Resources Branch (2017-2019) until those positions were filled.
Prior to joining NIH, Dr. Aurigemma held positions as Research and Discovery scientist and Clinical Research Manager in the private biotechnology sector and served in academic roles of various disciplinary departments such as microbiology and experimental immunology at Cornell University and pharmacology and biology at Pennsylvania State University. Dr. Aurigemma holds a Ph.D. in Microbiology from Colorado State University and a B.S. in Biology from Cornell University.
About the Associate Director

Rosemarie Aurigemma, Ph.D., has been a programmatic leader in drug development for over 20 years. Her tenure as the Deputy Associate Director of DTP resulted in the launch of the Stepping Stones preclinical development program as well as the initiation and expansion of biopharmaceutical manufacturing support for adoptive cell therapies. She served as Acting Associate Director of the DCTD Developmental Therapeutics Program beginning in January 2021 until her permanent appointment in September 2021. As Associate Director, she will be managing the oversight and coordination of the programmatic, financial, and administrative functions for DTP's ten active branches. More…