Last Updated: 02/21/17
Sundar Venkatachalam, Ph.D.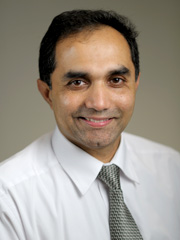 Chief
Preclinical Therapeutics Grants Branch
Dr. Sundar Venkatachalam serves as the chief of PTGB. Sundar earned his Ph.D. in Biochemistry from the Ohio State University, where he studied the molecular mechanisms of DNA damage and repair responses induced by polycyclic aromatic hydrocarbons. As a postdoctoral fellow at the Baylor College of Medicine, he analyzed the role of the p53 haploinsufficiency in tumor susceptibility and aging using genetically engineered mouse models. Subsequently, Sundar joined the faculty at the University of Tennessee where he directed an NIH-supported research program aimed at understanding the tumor suppressor and developmental functions of mitotic checkpoint kinases, transcription factors and chromatin remodeling proteins in mice. Prior to joining PTGB, Sundar was a program director at NIDCR where he managed a portfolio of grants and cooperative agreements in basic and translational research involving molecular mechanisms relating to the onset and progression of head and neck cancers. At NIDCR, he was instrumental in developing initiatives focused on cancer initiating cells, targeting codependent pathways in head and neck cancer (HNC), molecular analysis of salivary gland tumors, neoantigen based immunotherapy of HNC, and physiological effects of electronic cigarettes. Sundar's programmatic interests include: DNA damage responses, DNA repair, preclinical models of cancer research, tumor suppressor genes, chromatin and epigenetic targets, apoptotic pathways, synthetic lethal interactions, and cancer genetics.
Sundar Venkatachalam, Ph.D.
Branch Chief
sundarv@nih.gov
About the Branch Chief

Dr. Sundar Venkatachalam serves as the chief of PTGB. Sundar earned his Ph.D. in Biochemistry from the Ohio State University, where he studied the molecular mechanisms of DNA damage and repair responses induced by polycyclic aromatic hydrocarbons. As a postdoctoral fellow at the Baylor College of Medicine, he analyzed the role of the p53 haploinsufficiency in tumor susceptibility and aging using genetically engineered mouse models. More…
DTP Branches and Offices